Research in Impact Science & Economy
(RISE) is an experiential learning program spread across six proficiency levels for graduates, undergraduates and professionals under the age of 30 years, with a modest INR 100,000 scholarship for successful scholars. The program aims to build 21st century Impact Science skills in the emerging Impact Economy. RISE is a paid Fellowship or Internship, which gives you the chance to work with the world's biggest experts on cutting-edge global projects. While working on real-life projects, you will get certified in different levels of Impact proficiency, which will allow our RISE Fellows to secure better impact opportunities. Each cohort will be just 5-9 in number to ensure personal mentoring and will start and end at the beginning of each 6-month period. The biannual program requires a minimum commitment of 100 hours and offers flexibility to increase your commitment up to 1000 hours, to be completed within a period of six months. A successful completion of at least 1000 hours within the six-month period carries with it an INR 100,000 scholarship. Each successful completion of 100 hours and above provides a lifelong alumni membership of the RISE program and opens the doors to a whole lot of benefits including a completion certificate, LinkedIn endorsement, letter of recommendation, and, reference support.
The inaugural 1HY, 2020-21 batch is already under way and we are accepting applications for Q3/4, 2020-21 (September-March). Please meet our Cohort #1 RISE Scholars.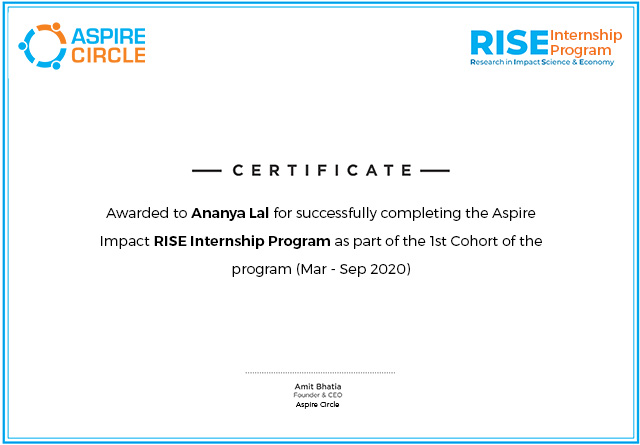 Get to know more about the RISE Internship Program