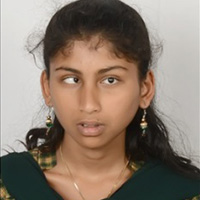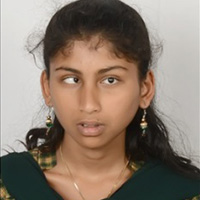 Rakshitha Raju
Rakshitha Raju is a Gold medalist at the Asian para games 2018. The first women in the country to win at the Asian para games. In the women's T11 1500m race, Rakshitha clocked 5 minute 40.64 seconds to clinch the gold. Her disability falls in T11 category which relates to very low visual acuity and/or no light perception.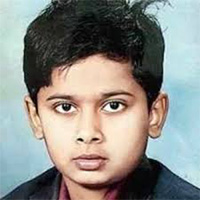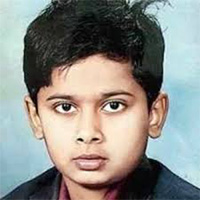 Satyam Kumar
Satyam Kumar, the 13-year-old son of a farmer from Bhojpur district, has cracked the IIT-JEE again this year with an impressive all-India rank of 679. This is despite the fact that the examination was held in an altogether different format this year.
At the age of 12-and-a-half years, Satyam had got the all-India rank of 8,137 in 2012 and was not happy with his results. He had then resolved to appear in the examination again to improve his ranking.
Since then, he had been studying at Kota in Rajasthan to pursue his goal. He hit the bulls eye when the results of the IIT-JEE were announced on Friday.
Satyam said that he would like to pursue computer engineering either from Mumbai or Kanpur IIT. He said that he would like wants to excel in the field of information technology while pursuing his course at the IIT. "I also want to develop something on the lines of the social networking site Facebook," he said.
The young prodigy, however, has also set his sights on bureaucracy and would also like to qualify in the civil services examination in future.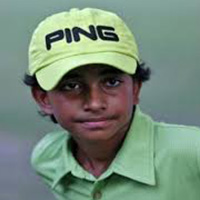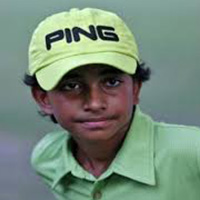 Shubham Jaglan
Shubham Jaglan (born 16 August 2004) is an Indian amateur golfer who won the Junior World Golf Championships in 2015. Jaglan is also World Record holder,9 under in Classic Junior Open, 2012 and is recipient of the "NDTV – Emerging Player" and "Margdarshan" awards. Jaglan has won over 100 domestic and international tournaments.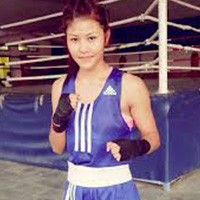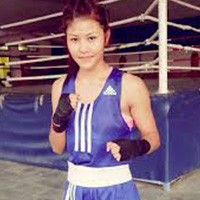 Jamuna Boro
Jamuna Boro was born on 7 May 1997 in Sonitpur, Assam.She hails from Belsiri village. Since her father, ParshuBoro died when she was ten years old, her mother, NirmaliBoro had to work as a vegetable vendor.
Jamuna Boro is an Indian amateur woman boxer. She has also represented India at international competitions. She won a gold medal at the 2nd India Open International Boxing Tournament held in Guwahati. She also won a gold at the 23rd President's Cup 2019 Boxing International Open Tournament held in Labuan Bajo, East Nusa Tenggara. She won a bronze in the 2019 AIBA Women's World Boxing Championships held in Ulan-Ude, Russia.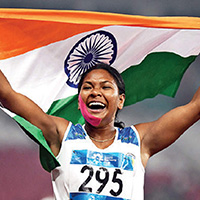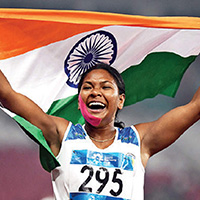 Swapna Barman
Swapna Barman (born 29 October 1996) is an Indian heptathlete. She won the gold medal at 2018 Asian Games and was placed first in the Heptathlon at the 2017 Asian Athletics Championships. In August 2019, she was honoured with the Arjun Award.Barman won the gold at 2018 Asian Games, she accomplished this despite a jaw injury. Barman collapsed during the final event of the 2017 Asian Athletics Championships – Women's heptathlon which was the 800 metres. However Barman had broken many of her personal recordsand she had already gained enough points from the previous six events and she had finished fourth in the 800 metres.
In 2016, she was supported by the GoSports Foundation through the Rahul Dravid Athlete Mentorship Programme.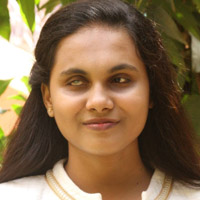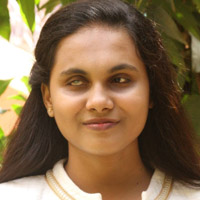 Vidhya Y
Vision Empower
Vidhya is visually impaired since birth. She founded "Vision Empower" – a non-profit focusing on education in science & maths for visually impaired students. Vidhya also co-founded "Vembi Technologies" – creating assistive tech for the visually impaired. She is the first blind student to undertake Maths at a higher secondary level in Karnataka, & the first to pursue Computer Science in UG studies at her university.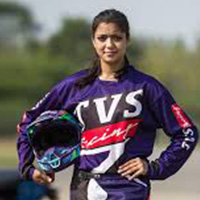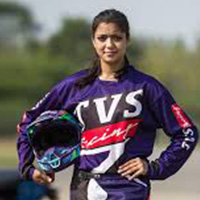 Aishwarya Pissay
Bangalore based 21-year-old Aishwarya Pissay is the first Indian woman to be a part of women biker team at CEAT MTV Chase the Monsoon Season 2, which so far was an all men's event. She is also the first Indian women biker to have ridden 13,500 km from Rann of Kutch in Gujarat to Cherrapunji in Meghalaya.
She was the first South Indian girl to participate in the Raid De Himalaya 2016, the world's toughest high altitude off-road rally. She is also the first woman to represent India in the International Motorsport event, where she secured 4th place.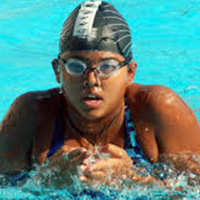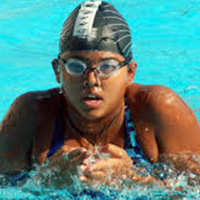 Bhakti Sharma
Bhakti is now the youngest in the world and the first Asian girl to have achieved this feat
India's open water swimmer Bhakti Sharma has set a world record by swimming 1.4 miles in 52 minutes in one degree temperature at Antarctic Ocean.
She has bettered the earlier record of British open water swimmer Lewis Pugh and American swimmer Lynne Cox, a release said.
Bhakti is now the youngest in the world and the first Asian girl to have achieved this feat. Akhilesh Joshi, the Chief Executive Officer of Hindustan Zinc, said, "We are very proud of Bhakti Sharma for this rare achievement. Whole country is proud of her and particularly girls who would be seeing her as inspiration to join swimming. Her achievement only proves that given the right support and opportunities India can produce many such talents."
Bhakti, a recipient of Tenzing Norgay National Adventure Award in 2010, expressed her gratefulness towards Udaipur-based Hindustan Zinc for supporting her when she had lost hope for her mission and needed the support. She has been pursuing open water swimming for the last 10 years. She has now conquered all the five oceans of the world.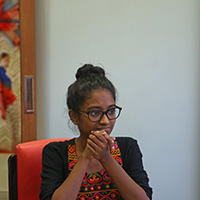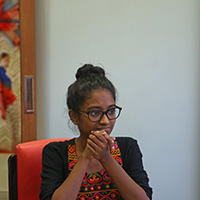 Shweta Katti
Shweta Katti is a 21-year-old girl from Kamatipura. Born to a sex worker named Vandana, Shweta had been raped many times by her step father, when she was a child.
Obviously, her childhood was dreadful. Her step father used to call Shweta kaaliladki (the black girl). Her mother was helpless. Even though Shweta was studious, she did not get a chance to explore her studies without problems. With lots of struggles she joined in a Marathi medium-school, where her teachers fed her in the afternoons.
It was Robin Chourasia, the founder of Kranti, an NGO based in Mumbai, which works for the upliftment of sex workers and their daughters, changed Shweta Katti's life.
Shweta met Robin after she passed her 10th standard examination. Robin was literally adopting her to fulfill her wishes. Kranti provided her the facilities to achieve her personal goals, including educational support, regular therapy, extracurricular activities, and leadership training. Shweta excelled in all programmes conducted by Kranti and even she began to go for classes to educate sex workers.
After joining Kranti, she had developed her language skills in English. After passing Class 12 examination with high marks, she applied to many foreign universities for her graduation.
She got selected in almost three American Universities, among which she was interested in the famous Bard College to pursue her graduation in psychology. They'd offered her a $30,000 scholarship that covers her tuition fees for the year, as well as half her accommodation cost. Thus Shweta Katti became the first girl from Mumbai's red-light district to travel to the United States for education.
But finding the rest of the fund to send Shweta to Bard was not that much easy for Robin. For which, she had conducted several campaigns via social media. Shweta Katti's story was welcomed by the people from India and abroad, hence fund started to flow to her account. And finally, Shweta found her way to Bard in the year 2013. Now, she had completed her graduation in Psychology.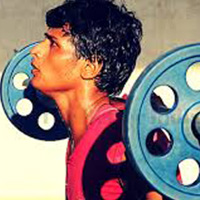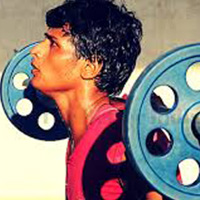 Neetu
"It gets difficult on some days. But I'm very focussed on my goal. I've come a long way and I don't want to give up now," she says. She was married at the age of 13 to a mentally challenged man, 30 years her senior. But this didn't last even a week. When her father-in-law tried to rape her, Neetu ran away from home. Though the ill-treatment by her in-laws angered Neetu's parents, it didn't prevent them from marrying her off a second time. However, this time, the man who married her was a kind person. He loved and supported her.
She gave birth to twin boys at the age of 14.
Neetu's dreams took shape in 2011 when she met coach Ziley Sing. he started training at a facility in Rohtak. Her hard work paid off soon as she won her first bronze medal at a national event that year. Since then, there has been no looking back.
Neetu has gone on to win medals at many national and international events.
She won a silver medal in the 48 kg category in the 35th National Games in Kerala. She has also represented the country in the World Junior Wrestling Championships in Brazil.
Niranjan Mukundan
Niranjan Mukundan (born 4 September 1994) is an Indian para-swimmer. He was crowned as the Junior World Champion in the year 2015. Niranjan claimed the silver medal twice in 50m butterfly at the Paralympic nationals in Mumbai, 2004–2005 and Kolkata, 2005-2006. At the state aquatic championships in Bangalore he won silver medal in 2007 and bronze in 2009 in water polo.On 1 November 2015, he won the state's prestigious Kannada RajyotsavaPrashasti. He also received the National Award (best sportsman with disability) for his exceptional achievement in the field of sports, at Vigyan Bhavan, Delhi. He won 10 medals (7 gold and 3 silver) in the World Junior Games held at Stadskanaal, Netherlands and was also crowned as the Junior World Champion.
At the 2016 IWAS Junior World Games in Prague, Czech Republic, Niranjan won eight more medals, also three gold, two silver and three bronze. He was honoured to have delivered the athletes' oath in front of his fellow competitors.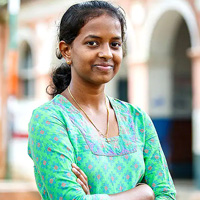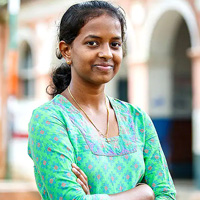 Shalini Arnugam
Shalini Arnugam, age: 18 years, is a first-year B.Tech student at the Reva University in Bangalore. Like all students in her batch, she is anxious about completing her coursework and assignments and is thankful for all the extra assistance she receives from her professors. However, unlike other students, Shalini is currently the sole breadwinner of her family. Her day starts and ends with working as a domestic help, while her engineering classes are squeezed in between. A high scorer in grade 10th and grade 12th examinations, Shalini states that although pursuing higher education seemed an insurmountable task, she was inspired to continue when she would help her mother clean office where she saw educated people earn well and be respected. In spite of her father being bed ridden from when she was four, this determined young person has never considered giving up her dream and is encouraged and supported by her mother and teachers.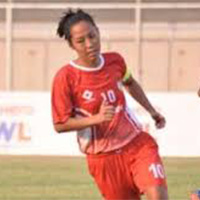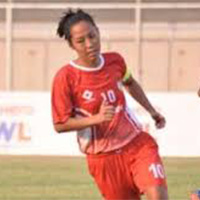 Kusum Kumari
Kusum Kumari, a 17 year old football player, coach, and student at YUWA said, "I have travelled abroad to play matches and public speaking before but this is my first visit overseas to learn to coach. I'm excited to understand how we can structure our football sessions practically on the ground, from Real Sociedad. I hope to apply my learnings from Spain to my team at Yuwa." The group's training is being held at San Sebastian, Spain, from February 22nd to March 11th, 2019.
Yuwa co-founder, coach, and executive director Franz Gastler said, "While society teaches girls to fit in, Yuwacoaches girls to stand out. With long-standing support from BookASmile, we're thrilled for our coaches to have the opportunity to train with a world-class La Liga team. The group of ten young women and two men will be taking their experience back to over 450 girls playing every day in 9 villages in Jharkhand."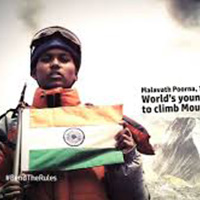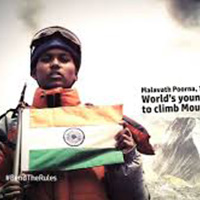 Malavath Poorna
MalavathPurna (also called Malavath Poorna, PurnaMalavath, or Poorna Malavath; born 10 June 2000) is an Indian mountaineer. On 25 May 2014, Poorna scaled the highest peak of Mount Everest and, aged 13 years and 11 months, became the youngest Indian and the youngest girl in the world to have reached the summit. The youngest person, male or female, to summit Mt. Everest is Jordan Romero, who reached the summit at age 13 years and 10 months. She was accompanied by Sandhanapalli Anand Kumar from Khammam. She scaled Mt. Elbrus, the highest peak in Russia and in Europe on 27 July 2017. After reaching the summit of Elbrus, she unfurled a 50ft long Indian Tricolor singing the Indian National Anthem.
A movie based on her life story was released in 2017 named Poorna: Courage Has No Limit directed by Rahul Bose.
Sushma Verma
She was just five when she was directly enrolled in class IX in 2005. When she was seven, she got listed in the Limca Book of Records for being the 'youngest student' to pass class X. She was 13 when she completed her graduation and at the age of 15, she has created yet another record by finishing her Msc. And that too with a Semester Grade Point Average (SGPAs) of 8!
Meet Sushma Verma, a 15-year old young genius from the outskirts of Lucknow, Uttar Pradesh, who has made headlines by clearing MSc (Microbiology) from Babasaheb Bhimrao Ambedkar (Central) University (BBAU).
Her brilliance does not just shine in India. She was invited for an IQ test in Japan where she competed with 35 other students of her age and stood first.
She aspires to become a doctor but her age came in between her dreams and her CPMT results were withheld because she was under age. As she couldn't pursue the medical course due to age constraints, she thought of finishing her PhD till she turns 17.
Daughter of a sanitation worker who is employed in the same college where she studied her Msc, Sushma was also given a grant of Rs. 8,00,000 by Sulabh's chief Dr Bindeshwari Pathak towards higher education.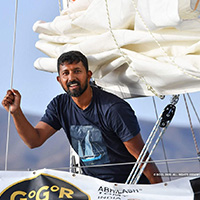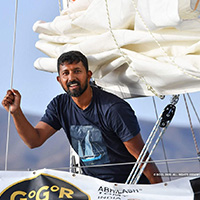 Abhilash Tomy
Commander Abhilash Tomy, KC from India, is one of India's most prominent sailors. A pilot in the Indian Navy, he has had the advantage, just as French sailing legend Eric Tabarly did, of spending much of his career sailing for his Country.
Abhilash has covered 52,000 miles under sail while in the Navy including a solo non-stop circumnavigation from Mumbai and back in 2012/13. He has also represented India in the 2011 Cape Town to Rio Race, the Spanish Copa del Rey Race in 2014 and the Korea Cup for two years in succession. He has been awarded the Tenzing Norgay National Adventure Award, the Kirti Chakra for valour and courageous action and Mac Gregor medal.
He says of the challenge ahead: "This event recreates in the closest way possible way, the magic of the original race. The emphasis is not on technology and its management, but on seamanship and a direct experience of sea. This spartan philosophy is in keeping with my own view that a lot can be achieved with very little."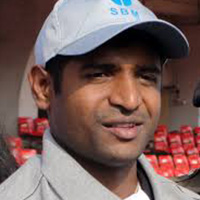 GirishaHosanagaraNagarajegowda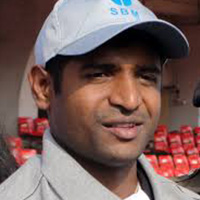 GirishaHosanagaraNagarajegowda
GirishaHosanagaraNagarajegowda (born 26 January 1988), also known as Girish N. Gowda is paralympic high jumper from India. He was born with a disability in the left leg. He represented India in the 2012 Summer Paralympic games held in London in the men's high jump F-42 category and won the silver medal in the finals with a jump of 1.74 meters using scissors technique. He became the first Indian to win a medal at that event. and the 8th Indian to win a medal at the Paralympics.
Girisha's first taste of success was when he won a prize at the State-level sports meet in Dharwad when he competed with normal sportsmen. He then won a bronze medal at the Mysore University sports meet. He then won the gold medal at the national high jump championship. His first achievement at the international level came when he won a bronze at the Junior World Championships for the disabled in Ireland in 2006. This was followed by Gold medals in athletic meets in Kuwait and Malaysia.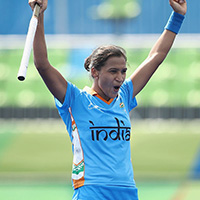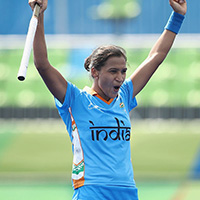 Rani Rampal
Rani Rampal (born 4 December 1994) is an Indian field hockey player. At the age of 15, she was the youngest player in the national team which participated in the 2010 World Cup. She has completed her schooling but was not able to get the graduate degree due to practice sessions and matches which were lined up. She plays forward on her team. She has played 212 international matches and scored 134 goals. She is currently the Captain for Indian Women's Hockey Team. She is considered to be one of the best women hockey players in the world. She is also well known as a striker who often doubles up as mid-fielder. She has a great fascination with CWG. In 2020, the Government of India honoured her with the Padma Shri.
Rani played in the Champion's Challenge Tournament held in Kazan, Russia in June 2009 and powered India to a win by scoring 4 goals in the finals. She was adjudged "The Top Goal Scorer" and the "Young Player of the Tournament."
She was instrumental in winning the silver medal for the Indian team in the Asia Cup held in Nov 2009. After playing with India's national team at 2010 Commonwealth Games and 2010 Asian Games, Rani Rampal was nominated in FIH Women's All-Star Team of 2010. She was nominated for ' young woman player of the year' award. She was also included the All-Star team of the Asian Hockey Federation based on her performance in 2010 Asian Games at Guangzhou.
At the 2010 Women's Hockey World Cup held in Rosario, Argentina, she scored a total of seven goals which placed India in the ninth position in World Women's hockey rankings. This is India's best performance since 1978. She is the only Indian to be nominated for the FIH Women's Young Player of the Year Award, 2010. She was conferred the "Best Young Player of the Tournament" award at the Women's Hockey World Cup 2010, recognizing her stellar performance as the top field goal scorer in the tournament. She was awarded with the Arjuna award in 2016 which was like one of her dreams come true.
She was also adjudged the 'Player of the Tournament' at the 2013 Junior World Cup which India finished with a bronze medal. She has been named for FICCI Comeback of the Year Award 2014. In 2013 Junior World Cup she made India won its first ever bronze medal at the event.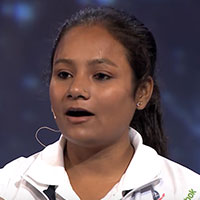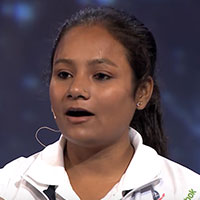 Arunima Sinha
Arunima Sinha is an Indian mountain climber and sportswoman. She is a seven time Indian volleyball player, mountaineer and the World's first female amputee to scale Mount Everest, Mount Kilimanjaro (Tanzania), Mount Elbrus (Russia), Mount Kosciusko (Australia), Mount Aconcagua (South America), Carstensz Pyramid (Indonesia) and Mount Vinson.
She was pushed from a running train by some robbers in 2011 while she was resisting them. As a result, her left leg had to be amputated below the knee, she got rods in right leg and multiple fractures in spinal cord.
Her aim was to climb each of the continents' highest peaks and hoist the national flag of India. She has already done seven peaks till 2014: Everest in Asia, Kilimanjaro in Africa, Elbrus in Europe, Kosciuszko in Australia, Aconcagua in Argentina, and Carstensz Pyramid (Puncak Jaya) in Indonesia. She completed her final summit of Mount Vinson in Antarctica on 1 January 2019.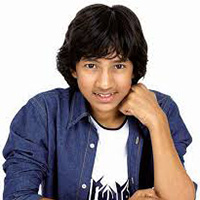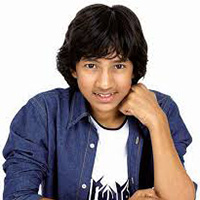 Kishan Shrikant
KishanShrikanth (Kannada: ಕಿಶನ್ಶ್ರೀಕಾಂತ್) (born 6 January 1996), professionally known as Kishan SS or Master Kishan, is a film actor and director from Karnataka. As of January 2006, having acted in 24 films and in many popular Indian soap opera (more than 300 episodes), he directed a feature film, C/o Footpath (Care of Footpath), about an orphaned boy who wants to go to school.The film is adapted from a short story written by himself,and the cast includes prominent Indian actors Jackie Shroff, Saurabh Shukla, B. Jayashree, Sudeep and Tara. Kishan himself plays the lead. The film has been dubbed into five major Indian languages and it has also been released in English. It was first shot in Kannada and the original version was released on 26 November 2006. Shroff said of Kishan: "He is such a genius that I had to work in his film. He is constantly thinking about his next shot, constantly innovating to make it better. He is sure about what he wants from his actors".
Kishan counts Arnold Schwarzenegger, Tom Cruise, Keanu Reeves, Jim Carrey, Amitabh Bachchan and many more among his favourite actors.
In November 2006, he was listed as the "youngest director of a professionally made feature length film" by the Guinness Book of World Records (GBWR).He replaces Sydney Ling, who was thirteen in 1973 when he directed the Dutch film Lex the Wonderdog.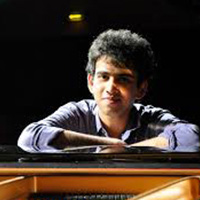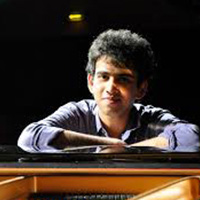 Utsav Lal
UTSAV LAL (born August 18, 1992) is an Indian pianist, improviser, educator and composer. At 26 years of age, Utsav Lal is recognized as a musician extraordinaire who has set a precedent in the world of music with his rendition of Ragas on the Piano. An impressive sixteen year music career behind him, Utsav is often known as the 'Raga Pianist' for his innovative handling of the Indian Classical music genre. He has gained international recognition for his groundbreaking work with performances across the world in countries including Italy, United Kingdom, Ireland, Germany, Hong Kong, Sweden, Kuwait, The Netherlands, USA, Canada, Singapore and India.
Utsav Lal has performed several concerts in a lead role at venues that include Carnegie Hall-New York, The National Concert Hall- Dublin, The Chambers-Singapore, Southbank Centre-London, Asia Society- Hong Kong, The Kennedy Center-Washington DC, Theatre Orangerie-The Netherlands, India Habitat Centre-New Delhi, Arts Centre- Melbourne, NCPA-Mumbai, Bridgewater Hall-Manchester and others.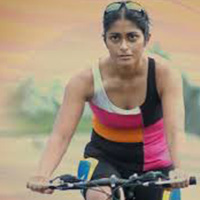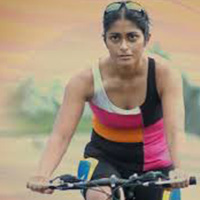 Anu Vaidyananthan
Anuradha "Anu" Vaidyanathan (born 1983 or 1984) is an Indian writer, entrepreneur and triathlete. Vaidyanathan's first book, the memoir Anywhere But Home – Adventures in Endurance, was published by Harper Collins in 2016, to positive reviews.In 2009, while working towards her PhD, she became the first Asian woman to complete the Ultraman Canada event, placing 6th amongst women, in the absence of any significant sponsorship.
She is the first India-based athlete to train for an participate in Ironman Triathlon. She has competed all over the globe in Ironman distance events and long-course triathlons culminating in Ultraman Canada in 2009, followed by a finish at Ironman Canada three weeks after Ultraman. Vaidyanathan was the first Indian woman to have qualified for the Half Ironman 70.3 Clearwater World Championship in 2008 (although she did not compete in this race).
Vaidyanathan speaks on a variety of topics including Gender, Sport, and Innovation and has addressed several organizations, including Fortune 100 companies, Sporting Teams, Universities and Schools.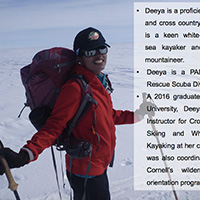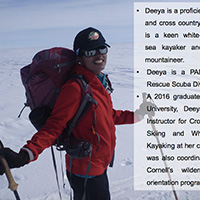 Deeya S. Bajaj
Deeya Bajaj, 24, and her father Ajeet Bajaj, 53, reached the summit of Mount Everest just in time to witness a magical sunrise on May 16 morning after a difficult journey.Deeya was taking her final steps towards the highest point on earth as the sun was rising. It was only after 15 minutes when Ajeet rejoined her, and at 4.45 am they became the first Indian father-daughter duo to conquer the Everest. "It was beautiful. So gorgeous," Deeya recalled, "To be there, with my dad, was absolutely fantastic. It was emotional for both of us, and pulling out the national flag and planting it proudly at the highest peak gave us an inexplicable joy," said Ajeet.
Deeya, a graduate from the Cornell University in New York, and her father, who was conferred the Padma Shri in 2012 for his contribution to the growth of adventure tourism, it all began a year back at a gym in Delhi where the two started their training. Swimming, running etc. became part of their routine, they claim. They also went for four trial expeditions—two in Ladakh (August 2017 and February 2018) and one each in France (January 2018) and Nepal (December 2017).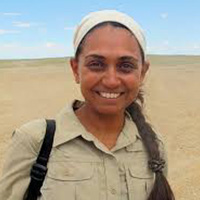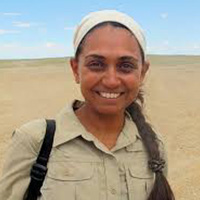 Sucheta Kadethankar
Sucheta Kadethankar (Marathi: सुचेता कडेठाणकर) from Pune India, on 15 July 2011 became the first Indian woman to walk across the Gobi Desert, a distance of 1,000 miles (1,600 km) in Mongolia, Asia's largest desert.Kadethankar was part of a 13-member team from nine countries led by Ripley Davenport, the desert explorer, in the Gobi Desert 2011 expedition. The guided expedition was supported by four-wheel drive truck, local Mongolian guides and 12 Bactrian camels.he Gobi trek that Kadethankar completed, titled "Gobi Crossing 2011", was an event organized by the Explore Foundation of Ireland. It catered to young people who wished to explore the wild desert of Gobi (the fifth largest desert in the world) in Mongolia. It was planned as a 60-day trek covering a distance of 1,600 kilometres (990 mi). Kadethankar was one of 13 selected walkers, including Christopher Schrader (who became the youngest person to cross the Gobi Desert on foot) and Faraz Shibli (who became the youngest Briton to do the same). The team included seven women but only three of them endured the trek to the last; Kadethankar was one of them.Her expenses for the expedition were US$7000, while her travel was met by her employer Symantec. It was a charity trek to support the Edu Relief, a Mongolian NGO, to support free education to students in Mongolia.The trek route was described by Kadethankar as drab, dreary and endless.
After Kadethankar registered to participate in the trek, she trained for six months by walking every day from her office and back, a distance of 24 kilometres (15 mi), carrying a heavy backpack.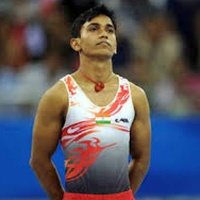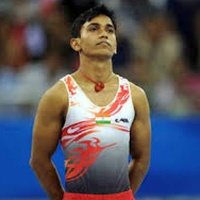 Ashish Kumar
Ashish Kumar (born 1990) is an Indian gymnast from Allahabad, who won India's first-ever medals in gymnastics, in October 2010 at the 2010 Commonwealth Games and became the most successful Indian gymnast in Commonwealth Games history, by winning bronze and silver medals in different gymnastic events.
2006
Kumar first participated at the 2006 Asian Artistic Gymnastics Championships staged in Surat, India. He won the bronze medal on the Floor Exercise, tied with Syrian gymnast FadiBahlawan. This was India's first major international medal in the history of artistic gymnastics. Kumar also competed at the 2006 Asian Games in Doha, Qatar. He finished 18th in the individual all-around, the only final he qualified for.
2010
At the 2010 Commonwealth Games he first won a bronze medal in the floor exercise and later a silver medal on vault, where the gold went to Luke Folwell of England, while Ian Galvan of Canada won the bronze medal. At the 2010 Asian Games in Guangzhou, China, Kumar won the bronze medal in the floor exercise. As of 2017, this remains India's only medal in gymnastics at the Asian Games.
2011
At the South Central Asian Gymnastics Championships in Dhaka in December 2011 Kumar won four gold medals, in the individual all-around, floor exercise, vault and high bar events.
2014
Following a turbulent selection process which caused uncertainty about the participation of the Indian team in the Gymnastics event at the 2014 Asian Games, Kumar failed to qualify to the floor finals at the event. He finished 12th in the individual all-around.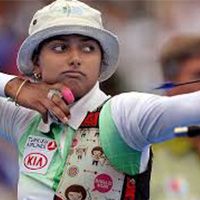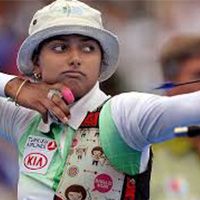 Deepika Kumari
Deepika Kumari (born 13 June 1994) is an Indian athlete who competes in the event of archery, is currently ranked World No. 9, and is a former world number one. She won a gold medal in the 2010 Commonwealth games in the women's individual recurve event. She also won a gold medal in the same competition in the women's team recurve event along with Dola Banerjee and Bombayala Devi.
Kumari qualified for the 2012 Summer Olympics in London, where she competed in the Women's Individual and Women's team events, finishing in eighth place in the latter.
She was conferred the Arjuna Award, India's second highest sporting award in the year 2012 by President of India Pranab Mukherjee. In February 2014, she was honored with FICCI Sportsperson of the Year Award. The Government of India awarded her the civilian honour of the Padma Shri in 2016.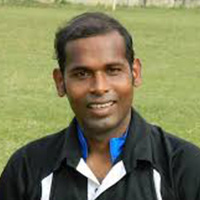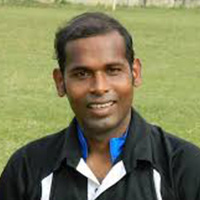 Prashant Karmakar
2014 Incheon Asian Games 2 Bronze medals PrasanaKarmakar (born 8 December 1980) is an Indian Para swimmer. He was born in Kolkata, West Bengal.
2016 RIO Paralympic games Swimming team coach.
Arjuna Awardee, Major Dhyan Chand Sports Awardee, Bhim Awardee, Kolkata Shree Awardee, State Role Model Awardee, Super Idol Awardee, Positive Health Hero Awardee, Achiever Awardee, Limca Book Record Holder, Swimmer of the year Award 2010, 2011, 2014. 2003, Karmakar became the first disabled swimmer to represent India and win a medal at the World Swimming Championships in Argentina.Since then he has won over a dozen medals at the World events. He was the most decorated Indian swimmer at the 2009 IWAS World Games held in Bangalore winning 4 Gold, 2 Silver and 1 Bronze medal. At the 2010 Commonwealth Games in Delhi, he won a bronze medal which was India's first ever medal in aquatics at the Commonwealth Games.In the 2010 Asian Para Games in Guangzhou in China, he won a silver medal at 50m Freestyle and a bronze medals in the 200m Individual Medley. Prasanta also won a bronze in the 50m Backstroke in the S9 category at the 2010 International German Swimming Championships for Athletes with a Disability in Berlin, Germany.Prasanta Karmakar won 2 bronze medal in 2014 Incheon Asian Para games in 100 meter Breast stroke and 4 x 100meter freestyle relay. He is the Paralympic swimming Asian record holder in 50m Butterfly, 50m Breaststroke and 50m Backstroke and also is the Paralympic National Record holder in four events – 50m Freestyle, 100m Freestyle, 100m Backstroke and 200m Individual Medley. Having achieved success at the Commonwealth Games and Asian Games, he is now training hard to win medals for the nation at Paralympic Games, London, 2012
Prasanta Karmakar is coached by Pradeep Kumar in Bangalore.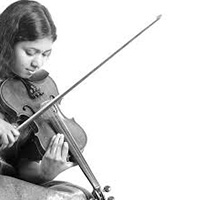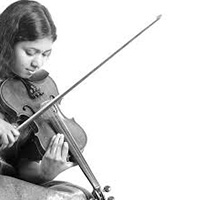 L. Athira Krishna
Aathira Krishna is an Indian violinist. She holds the Guinness World Record for her 32-hour-long non-stop Carnatic violin solo concert. She is among the youngest cultural ambassadors of India.Krishna switched to violin from vocal at the age of eight and was soon hailed a child prodigy. She started performing as a Carnatic Violin soloist from the age of 9. Popularly hailed as the "Princess of Indian Violin", and honoured by the former First Lady of India Usha Narayanan as "The Musical Gem of India", she has represented Indian classical music at international music festivals.
Krishna was invited twice to perform at the Rashtrapati Bhavan, the Official Residence of the President of India. In 2001, as a child prodigy representing Indian classical music, she presented a paper presentation on "Violin in South Indian Classical Music" for the prestigious International Children's Assembly held at New Delhi. In 2002, she presented a unique thematic 'World Music Night' incorporating music genres of more than 20 nations for the year-long Millennium Celebrations in Kazakizhtan.
In 2003, Krishna entered the Guinness Book of World Records for her 32-hour-long non-stop South Indian classical violin concert dedicated to global peace and harmony. Titled 'Nadhabrahma',this was also a tribute to her eminent grandfather. She also holds a place in the Limca Book of Records for the same feat. She was among the youngest of speakers for the Lecture Demonstration Section of Internal MuSIC Festival in Russia on the topic "Violin in Classical Indian Music". In 2005, she was invited by the Mayor of Menden, Germany to perform at the international music festival Jazz Meets Classics. She also became the first Indian classical musician to perform at the 1000-year-old church at Kaiserwerth, Germany.
In 2005, Krishna was invited to give the Inaugural Concert for the 74th birthday celebration of President of India, A.P.J. Abdul Kalam.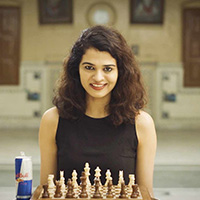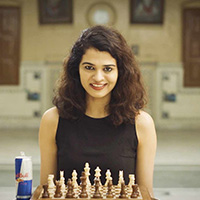 Tania Sachdev
Tania Sachdev (born 20 August 1986) is an Indian chess player, who holds the FIDE titles of International Master (IM) and Woman Grandmaster (WGM). She is also a chess presenter and commentator.
In 2005, she became the eighth Indian player to be awarded the Woman Grandmaster title. She won India's National Women's Premier Chess Championship in 2006 and 2007. In 2007, she also won the Women's Asian Chess Championship with 6½ points out of nine rounds in Tehran. She was conferred with the prestigious Arjuna Award in 2009. In 2016, Sachdev won the best woman's prize at the Reykjavik Open and won the Commonwealth women's champion title in Kalutara.
She has played for the Indian national team in the Women's Chess Olympiads since 2008, the Women's World Team Chess Championship in 2009 and 2011, the Women's Asian Team Chess Championship since 2003, the 2006 Asian Games, and the 2009 Asian Indoor Games. Sachdev won the individual bronze medal for board 3 at the 2012 Women's Chess Olympiad in Istanbul, four team silver medals (in 2008, 2009, 2012, and 2014) and four individual ones (three silver and one bronze) at the Women's Asian Team Championship.
Sachdev has presented a Fritztrainer Strategy DVD for Chessbase and was a member of the official commentary team for the 2013 (Chennai) World Championship Match between Magnus Carlsen and Viswanathan Anand.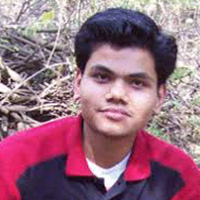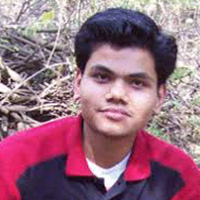 Tathagat Avatar
Tathagat Avatar Tulsi (born 9 September 1987) is an Indian physicist, best known as a child prodigy. He completed high school at the age of 9, earned a B.Sc. at the age of 10 and a M.Sc. at the age of 12 from Patna Science College (Patna University). In August 2009, he got his Ph.D. from the Indian Institute of Science, Bangalore at the age of 22. In July 2010, he was offered a position as Assistant Professor on contract (a non-permanent teaching position for fresh Ph.D. graduates) at IIT Bombay. IIT Bombay terminated his employment in October 2019 as he was absent since 2018. Tulsi claimed that the "climate" of Bombay made him sick and he wanted to be "transferred" to IIT Delhi, an impossibility given every IIT is an independent university.
When he was admitted to a PhD program at the age of 17, the then dean of the physics department at the Indian Institute of Science, replying to a journalist's query, described him as a "good boy, very lovable and working to achieve his goals"; however, he declined to comment on the description of Tulsi as a prodigy.
He received wide public attention in 2001, when he was shortlisted by the Indian Government's Department of Science and Technology (DST) to participate in a Nobel laureates conference in Germany.
Tulsi was admitted by the Indian Institute of Science (IISc).,where his Ph.D. thesis was on "Generalizations of the Quantum Search Algorithm". He co-authored an unpublished research manuscript ("A New Algorithm for Fixed-point Quantum Search") with Lov Grover, the inventor of a quantum search algorithm that goes by his name.
Tulsi was once cheered on as one of the most gifted Asian youngsters by TIME magazine, mentioned as "Superteen" by Science, "Physics Prodigy" by The TIMES, "Master Mind" by The WEEK and listed by Outlook as one of the smartest Indian youngsters. Tathagat Avatar Tulsi participated in the Stock Exchange of Visions project of Fabrica, Benetton's research centre in 2007. He was invited by Luciano Benetton for a dinner in honor of Al Gore on 14 June 2007 in Milano, Italy. Tathagat's story was showcased by National Geographic Channel in the program My Brilliant Brain. The episode named "India's Geniuses" was aired on 13 December 2007 and was hosted by Bollywood actress Konkona Sen Sharma. He was interviewed by 14-year-old Trishit Banerjee for his magazine Young Chronicle.