The Size of ESG, Sustainability, and Impact Measurement and Management Market
Empowering the Global Impact Economy!
Join us on Thursday, 15 June 2023 at 04:30-05:30 pm (IST), as we unveil our ground-breaking research on the global ESG, Sustainability, and Impact Measurement and Management (IMM) market.
What will you gain from participating:
Listen to industry leaders and experts
Evolution of the Global and Indian IMM sector
State of harmonization and consolidations in the sector
Key drivers for adoption of IMM
Key Take-aways and Recommendations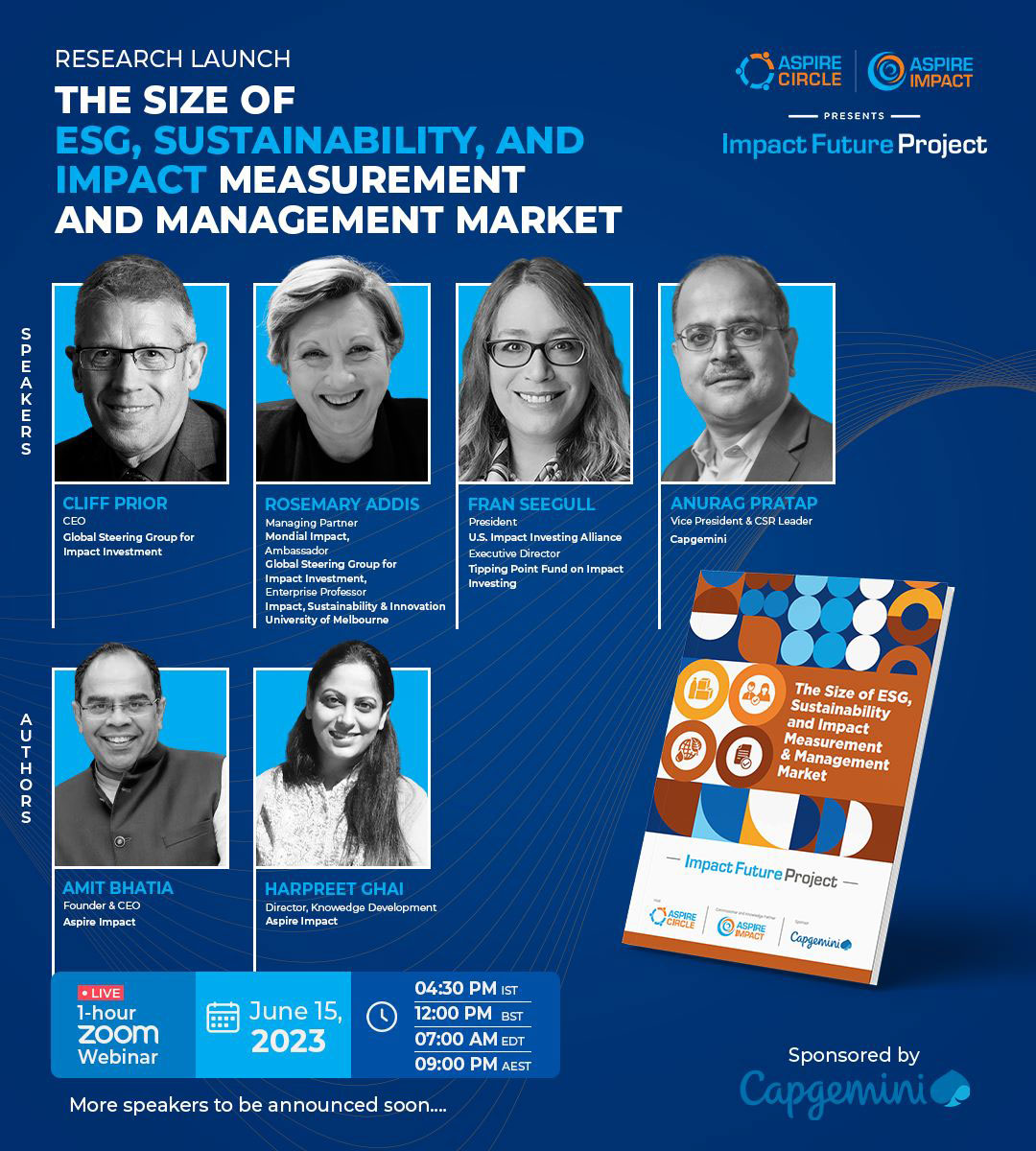 Fill the form below to Register :
The global ESG, Sustainability & Impact movement is today an unstoppable force, with significant momentum around ESG and Sustainability and strong early movement around Impact.
 It is well-accepted amongst institutional investors, that (A) ESG or Responsible Investing; (B) Sustainability or Thematic Investing; and (C) Impact Investing are three steps of the Impact Continuum, which have collectively attracted USD 59 trillion of AUM in 2020 and representing the ABC of Impact: A=Avoid Harm, B=Benefit All, and C=Contribute to Solutions.
 Businesses and regulators are mirroring this classification to adopt ESG, Sustainability or Impact Reporting, based on legal mandates and the investor or stakeholder groups they wish to engage. Last year,
On ESG: 95% of S&P 500 companies publicly disclosed ESG data and around 25% of Fortune 500 companies committed to achieving carbon neutrality by 2030.
On Sustainability: 92% of S&P 500 companies; 75% of Top 100 companies in 49 countries; and 70% of Russell 1000 index companies reported on Sustainability in 2020, up from 65% in 2019.
On Impact: There are now 5080 B. Corps in 155 industries across 80 countries of the world's population is engaged in social ventures; and 1/3 of start-ups are in Impact.
As a result, the IMM market, which subsumes ESG, Sustainability, and Impact measurement has gained prominence in the last two decades and is expanding at an impressive pace.
Aspire Impact's Impact Future Project, or IFP, last year published eight India-focused sectoral reports to catalyse Impact assessment, creating a unique co-authoring community of 200+ CXOs. This year, IFP publications have a global outlook. After the launch of India and the world's first set of Impact Standards for empirical and comparable Impact Assessments for corporations and non-profits, we are delighted to launch another first for the world: this market-sizing study for the integrated ESG, Sustainability, & Impact sector.
We invite you to attend the milestone launch event where we will reveal comprehensive findings and key insights from the report. Esteemed speakers and industry experts will provide perspectives on the current state, future projections, and key trends of the IMM market.
Join us to shape a sustainable future.
How to Join us:
The Log-In Link for the webinar will be emailed to you after registration. You are further requested to login a few minutes prior to the scheduled start of the event.
Webinar Details:
Date: 15 June 2023
Time: 04:30 pm to 05:30 pm IST
Log-In Link: This will be emailed to you after registration.
04.30 PM
Welcome and Overview
Harpreet Kaur Ghai
Director, Knowledge Development- Aspire Impact
04.35 PM
Research Findings
Amit Bhatia
Founder – Aspire Circle
Cliff Prior
CEO – Global Steering Group for Impact Investment
Rosemary Addis
Managing Partner – Mondiale Impact
Ambassador – Global Steering Group for Impact Investment
Enterprise Professor – Impact, Sustainability & Innovation University of Melbourne
Fran Seegull
President – U.S. Impact Investing Alliance
Executive Director – Tipping Point Fund on Impact Investing
Anurag Pratap
Vice President and CSR Leader – Capgemini
05.29 PM
Vote of Thanks and Closing
Harpreet Kaur Ghai
Director, Knowledge Development- Aspire Impact