Healthcare, Pharma and HealthTech
Transforming India into an Impact Economy!
Join us on 23 February 2022 at 3-4 pm (IST) as the Impact Future Project (IFP) SDG aligned community Healthcare, Pharma & HealthTech will unveil the top 10 Impact Investment ideas in the sector. The top 10 Impact Investment ideas have been researched and discussed by notable impact leaders with experience and expertise.
What to expect:
Future trends & opportunities in this decade
Top 10 For-Profit business ideas that can attract impact Investments
How India can achieve UNSDGS
Innovative ideas to create a profitable Impact startup
Listen to industry impact leaders and their expertise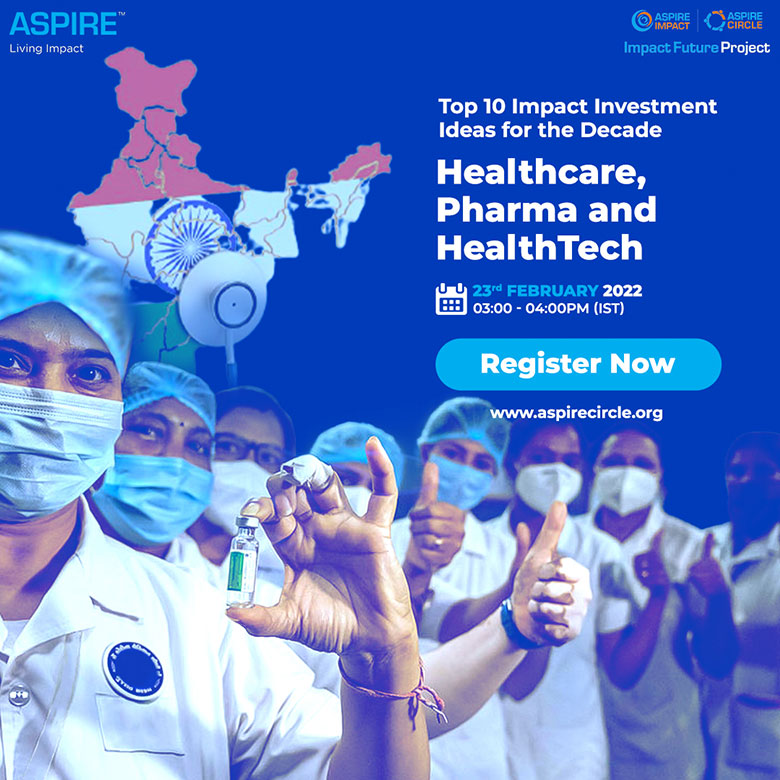 Fill the form below to Register :
Health has a central place in SDG 3 "Ensure healthy lives and promote well-being for all at all ages", underpinned by 13 targets that cover a wide spectrum of WHO's work. Almost all of the other 16 goals are related to health or their achievement will contribute to health indirectly.
It is critical for India to achieve the SDGs as:
Lower Expenditure on Health: The Combined expenditure of Centre and States on Health is around 1.5% of India's GDP, which translates into Rs 3 per person per day. Countries such as Bhutan (2.5%) and Sri Lanka (1.6%) spend more money on health as compared to us.
Low Insurance Penetration: 86% of people in rural areas and 82% in urban areas do not have access to insurance coverage. In case of healthcare emergencies they are forced to use their meager savings, borrow money, or delay the treatment. Implications:

Perpetuate vicious cycle of poverty (poor people remain poor due to higher health costs)
Push the above poverty line people back to BPL. (Drives 55 million Indians into poverty, more than the population of South Korea (51.1 million))

Lack of Accessibility: Most of the secondary and tertiary care hospitals are located in Tier-1 and Tier-2 Cities. Similarly, most of the doctors are unwilling to practice in Rural areas.
Lack of Affordability: The contribution of private sector in healthcare expenditure in India is around 80 percent while the rest 20 percent is contributed by Public Sector. The private sector also provides for 58 percent of the hospitals and 81 percent of the doctors in India. However, since the private sector hospitals work on the profit motive and charge high fees, the private sector hospitals do not address the needs of the poor patients.
The Impact Future Project with 300 visionary business, investment, non-profit, media & government leaders, is a public-private-people initiative aligned with the SDGs and Government programs, to unlock private capital for public good by creating an idea bank with disruptive and transformative investment ideas for 2030.
The ideas presented in the IFP Books have been researched and created by Impact leaders coming together to transform India to an Impact Economy.
The Indian healthcare sector has been expanding at the compounded annual growth rate (CAGR) of 22 percent since 2016, making it one of the largest sectors of the Indian economy in terms of both revenue and employment. With a market value of USD 140 billion in 2016, the sector is projected to reach USD 372 billion by 2022. The sector employed more than 4.7 million people in 2015, making it the fifth largest sector in the country and is expected to add another 2.7 million employees between 2017 to 2022, generating over 0.5 million new jobs per year.
With the launch of Ayushman Bharat in September 2018, which provides free health insurance to approximately 50 percent of the country's population, the government clearly signalled its intent to strengthen the healthcare ecosystem of the country. As part of the National Health Policy, the government plans to increase its spend on healthcare to 2.5 percent of GDP by 2025 from just 1 percent currently.
A concentrated effort is required along with investments from both the government and private players to bring about a systemic change in healthcare in India. For example, government-owned diagnostic labs supported by large equipment manufacturers in co-ordination with private healthcare companies can be developed across the country to provide screening, testing and diagnostic requirement at a subsidised rate. Steps like these can go a long way to universal health coverage and can assist in creating a culture of preventive healthcare, thereby reducing the burden of total healthcare expenditure for hospitalized patients by 20 percent on average.
IFP leaders from the Healthcare, Pharma & HealthTech community will unveil the top 10 Impact Investment ideas to create a profitable impact business and help India achieve the UNSDG's by 2030.
Join us at this exciting session and interact with our IFP leaders to invest for a sustainable future and get ahead in the Indian Impact Revolution. See you at the event!
How to Join us:
The Log-In Link for the webinar will be emailed to you after registration. You are further requested to login a few minutes prior to the scheduled start of the event.
Webinar Details:
Date: 23 February 2022
Time: 03:00 pm to 04:00 pm IST
Log-In Link: This will be emailed to you after registration.