Transforming India into an Impact Economy!
Join us on 23 December 2021 at 3-4 pm (IST) as the Impact Future Project (IFP) SDG aligned community Food, Agri & AgriTech will unveil the top 10 Impact Investment ideas in the Food, Agri & AgriTech sector. The top 10 Impact Investment ideas have been researched and discussed by notable Indian leaders with experience and expertise.
What to expect:
Future trends & opportunities in this decade
Top 10 For-Profit business ideas that can attract impact Investments
How India can achieve UNSDG Goal 2: Zero Hunger
Innovative ideas to create a profitable Impact startup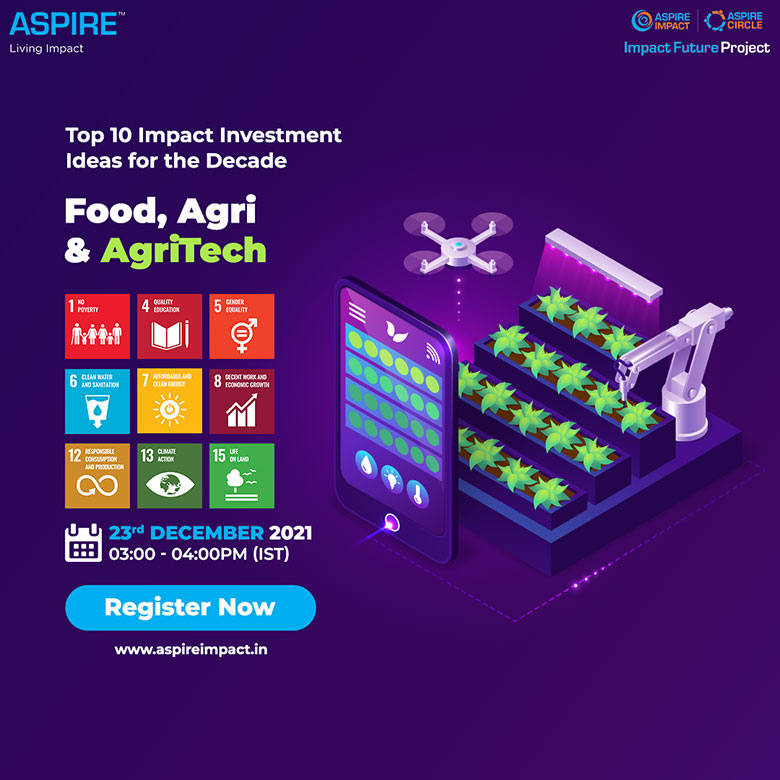 Fill the form below to Register :
IFP, World's first Impact-dedicated, thought leadership platform is collaborating with more than 200 experts to shape India's Impact Economy by unlocking $1 Trillion for SDGs. The Top 10 Impact Investment ideas researched by IFP leaders provide a significant advantage to corporations while achieving the UNSDGs for India.
The agricultural sector provides livelihoods for large populations in developing countries and helps sustain economic growth in developed economies. By 2050, the world's population is expected to reach 10 billion, which makes it crucial to find solutions to fulfil future requirements of food, feed, fuel and industry.
Globally, food demand is expected to increase in the range of 59-98 percent by 2050. To meet this demand, agricultural produce in 2050 will need to increase by 50 percent as compared to that in 2012.
Estimates suggest that India will overtake China as the world's most populous country by 2027. While India's population is projected to grow at the compounded annual growth rate (CAGR) of 2 percent, demand for key food grains is expected to grow at a CAGR of 3 percent.
We need an increased focus on increasing per unit productivity while keeping sustainability at the centerstage. This was emphasised at the 26th Conference of Parties (COP26) of the United Nations Framework Convention on Climate Change at which 27 global economies made new commitments to make their agricultural practices more sustainable and less polluting, and to invest in the science needed for sustainable agriculture and for protecting food supplies against climate change.
Hunger and malnutrition are critical areas which require the support of the Food, Agri & AgriTech sector. India has slipped to 101st position in the Global Hunger Index (GHI) 2021 of 116 countries, from its 2020 position of 94th. With a score of 27.5, India has a level of hunger that is in the serious category. This has brought to fore the urgency and the need to bring changes in India's nutritional policy.
GHI Findings.
Undernourishment: Share of undernourished in the population: 15.3% in 2018-2020.
Child Stunting: Prevalence of stunting in children under 5 years: 34.7% in 2016-2020.
Child Wasting: Prevalence of wasting in children under 5 years: 17.3% in 2016-2020.
Child Mortality: The Under-5 Mortality Rate: 3.4% in 2019.
With an aggregate gross sectoral value of USD 414 billion (2019-20) agriculture continues to be one of the critical components of the Indian economy. Currently, India is the world's fourth-largest producer of agrochemicals and accounts for nearly a third of global tractor production.
IFP leaders from the Food, Agri & AgriTech community will unveil the top 10 Impact Investment ideas with the potential of solving the problem of hunger and malnutrition (Goal 2: Zero Hunger) and increase agricultural productivity. The ideas present the opportunity in the sector to create a profitable impact business and help India achieve the UNSDG's by 2030.
Join us at this exciting session and interact with our IFP leaders to invest for a sustainable future and get ahead in the Indian Impact Revolution. See you at the event!
How to Join us:
The Log-In Link for the webinar will be emailed to you after registration. You are further requested to login a few minutes prior to the scheduled start of the event.
Webinar Details:
Date: 23 December 2021
Time: 03:00 pm to 04:00 pm IST
Log-In Link: This will be emailed to you after registration.